Discovery Tours and Excursions
Seugne Adventures provides 2-seat canoes. Canoes are the best way to let you and your party enjoy the ideal setting of the well-preserved Saintonge river banks.
In the heart of the Haute-Saintonge area lies an exceptional river network. Our discovery trips will let you enjoy the rich ecosystem and the historical mills of the Seugne.
Guided & Do-it-yourself Trips
- Introduction trips
- One-way and return trips on the Seugne departing from Jonzac, Pons, etc.
- Rallies and Long-distance loops
- Custom trips for groups and associations...
Road links, food and lodging, group reception and activities, riverside campsites, etc., are provided.
Opening season
April to October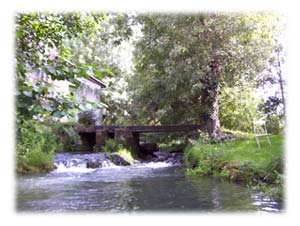 A lot of options are available like the transport by bus to the starting zone, meals, animations, custom accomodation, camping places on the banks etc...
What to Wear
Quick dry shorts, T-shirts and tevas. Bring along plenty of sunscreen and a hat. Life jackets are provided and must be worn by each guest.